Hajjah, Yemen – "When the war broke out, I left my job in the city and came to Aslam," Rawthah Ahmed, a midwife with 25 years of experience, told UNFPA. Her services are desperately needed in Aslam, a remote village in Hajjah Governorate. "There are no health facilities or basic services. People are very poor; they cannot afford to travel in search of medical care," she explained. "I chose this profession to save pregnant women, so I had to come back to help them."
Yemen has one of the highest maternal mortality ratios in the Arab region. A woman's lifetime risk of dying from pregnancy-related causes is 1 in 60. And the country's conflict is only exacerbating the situation, disrupting crucial supply lines and eroding health care. Cholera and diphtheria outbreaks have left pregnant women and newborns more vulnerable than ever.
Across the country, there are an estimated 3 million women and girls of childbearing age in need of vital reproductive health services. Food shortages have left an estimated 1.1 million pregnant women malnourished; 75,000 of these women are likely to develop malnutrition-related complications, which could threaten their lives.
Poverty also exacerbates malnutrition, and keeps women from seeking regular check-ups. "Most of the pregnant women in the area suffer severe malnutrition and are not fit enough travel to the clinic," Ms. Ahmed said.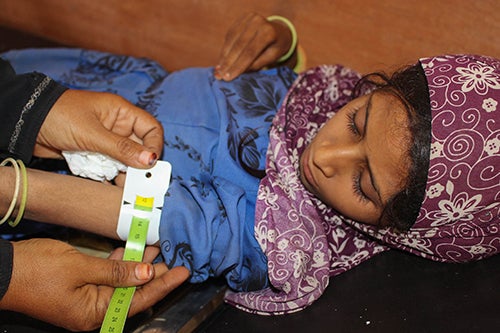 A midwife checks a young woman's arm circumference, an indicator of nutrition status. © UNFPA Yemen
Midwives like Ms. Ahmed are going to heroic lengths to serve women in need.
"I travel long distances by foot, sometimes at night or in the midst of air strikes, to reach them," she said. "If I don't take that risk, pregnant women and their unborn children may be in danger. It is my duty to save them."
Enormous challenges
Today, it is estimated that only one third of Yemen's reproductive health facilities are functional. And many families lack the resources to seek care at their nearest hospital.
Midwives are helping to fill these gaps.
"I operate a small clinic with a delivery room in my house," Ms. Ahmed said. "I see between 15 and 20 cases in my clinic each month."
Her clinic is supported by UNFPA. In recent years, UNFPA has helped 120 midwives like Ms. Ahmed set up home-based clinics. UNFPA is also working to help cover the cost of care for impoverished families.
Still, the challenges are enormous. Poor infrastructure limits midwives' ability to reach patients and obtain family planning supplies, medicines and other life-saving essentials. As a result, their work can be gruelling and heart-breaking.
Rawthah Ahmed carries obstetric supplies to help a woman in labour. © UNFPA Yemen
"Sometimes, the cases are beyond my help," Ms. Ahmed explained. "I remember one such incident. A family came rushing to me to see a woman in labour. When I reached their house, I realized the woman was suffering from anaemia caused by acute malnutrition. I did not have the medical supplies to treat her, so I referred her and gave money for the family to take her to a hospital in the city. But the woman could not survive the long distance and the rough roads. She died on the way to the hospital."
Midwives risking their own lives
The intensity of Yemen's conflict means midwives often risk their own lives in the course of their duties.
Laila, a midwife in Abyan Governorate, recounted a harrowing childbirth she attended in a neighbourhood that was under attack.
"At 10 pm, I was called to attend to a woman in labour. There was heavy bombing in the area, but I was ready to put my own life at risk to save another life," she said.
"I walked for an hour to reach the house. Just when I began to attend to the delivery, an airstrike hit right next to the house. The whole house shook. The woman jumped in fear and tried to run away. At this moment, I had to hold my fears and ensure the delivery was safe. Thanks to God, within a few minutes a healthy baby was born."
Despite the hardship and terror, Laila says her work is fulfilling. "Every time, I can save a life, I feel proud of what I do," she said.
View External Link